NAME: Taizai Hikari
AGE: 14 years old DOB: October 24, 2005
CLASS: Sophomore at Yamaku
APPEARANCE: Taizai has green eyes and brown hair. He styles his hair similar to Kurai's. The style is unkempt, much like "bedhead" but at the same time still professional and taken care of. He is in shape from exercising during school as well as afterwards and on the weekends. He wears the complete school uniform when at school and when he is relaxing or at home he wears workout clothing such as track jackets, basketball shorts, etc.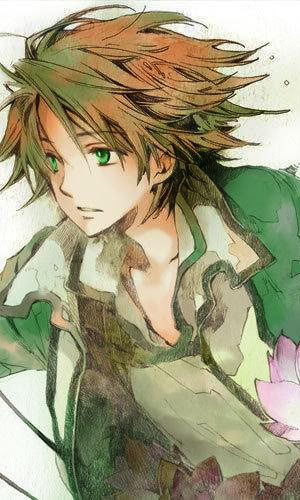 BACKSTORY: He was born before his father, Mike Hikari passed away. They only met once, though he will never remember it. He also does not remember his true mother, Suzu Suzuki. He grew up listening to stories of Kurai's former fiancée, Saki, and his girlfriend, Andrea. Because of this, he is under the impression that Saki Enomoto is his mother. About 5 months after his birth he came into the custody of her uncle, Kurai Hikari. He and his twin sister, Hitomi have been living with him ever since though he prefers to spend most of his time at Yamaku in his dorm. He, like his true father Mike, suffers from insomnia which constantly keeps him awake late into the night. Because Taizai hardly stays with Hitomi and Kurai, their relationship is not very close.
PERSONALITY: Taizai is usually cheerful and happy when he gets sleep, however over time he becomes more and more moody as he goes without sleep. Unlike his father, uncle, and sister, he is very polite towards women and is not like other Hikari's. He feels like he needs to bring honor back to the Hikari name and that he is the only one able to do so. He is very polite towards everyone.



Posts

: 332


Reputation

: 0


Join date

: 2013-02-11


Location

: Yamaku Academy



Admin




Posts

: 260


Reputation

: 14


Join date

: 2013-01-20


Age

: 22


Location

: Germany



DENIED! Nah, jk, approved.
Admin




Posts

: 644


Reputation

: 71


Join date

: 2013-01-18


Age

: 25




---
Permissions in this forum:
You
cannot
reply to topics in this forum