Iro sits alone in her classroom in the art block while reviewing each of her student's work from the day. Her coffee is casting a healthy green glow around the room [known only to Iro] and an audible sigh can be heard from Iro.

I haven't seen Tachibana-sensei in weeks... I thought our date went surprisingly well. She thinks to herself, as a forlorn and slightly upset look crosses her face.

Another sigh escapes her lips and she slams the book she is currently marking onto the table and walks to the window, which overlooks the valley the sleepy town near Yamaku is in. In the window she can also see a reflection of herself.. and the person entering the room.
[Is bumping a thing? Cause I'm doing it.]
[I don't know, but I'll join even though I don't think we'll make it far before our characters run out of things to talk about. X)]

"Good evening, Shisen-sensai! I am ready for today's club lesson-thingy."

My strut into the room has quite the spring in it.

...And by spring, I mean a hopping jog in which I make outward arcs with my legs.

I stop in front of the desk and bow toward Iro before setting my stuff down by the usual spot I sit.
[They can MAKE things to talk about!]

Iro drags her eyes away from the beautiful vista outside her window, and notices one of her favorite students enter the room.

As Satoshi speaks Iro smiles at the comforting violet mist that her addled brain confuses as noise pours out of his mouth and hangs lazily in the air around him.

"Ah, Mr Veach, art club, right."

I totally forgot about that...

"It's Monday already is it? I must admit I don't actually have anything planned for today; is there anything in particular you'd like to do?"

You can pine over Masato another day, Iro, your students are more important.




"...Hmm~~..."

What about-...

No..can't do that...

Can't do that either since technically a school function...

Maybe...

"I know it's more creative technique than art technique but what about cartoon or anime-like expressions?"

"Those are fun to make while still retaining difficulty if you aren't the most creative person but all art requires creativity while most requires a lot of it."

Yeah-yeah, and-

"How about we draw ourselves in certain situations life throws at us-could be anything from Windows shutting down your computer with no warning after typing a lot [f**kin' windows did that to me on here more than once...] to asking someone out on a date-and make our own reactions to them."

"If they don't want to make it in one frame, they could make it like a short comic or something."

"As for the lecture before-hand you weren't expecting to give today since you forgot to plan ahead, you could speak about the practice behind it and how much it's effected by the individual artist's style."
Iro blinks and bewilderedly shakes her head.
"Urr.... You should be a teacher!" She says with a laugh. "Not a bad idea - although seeing as you're the only student that has turned out, I think the lecture will have to be more of an informal chat I'm afraid." She says while gesturing to the empty room. Art wasn't so popular in the school, but it was rare for only one person to turn up to the art club.
She gestures to a nearby table and they both take a seat, and Iro drags over a pad of paper and a few pencils. [Sorry for controlling your character. Saves the extra posting.]
"So, Satoshi. You'd like to work on your skills in drawing a person's reactions. Seems simple enough, if your PC shut down you would be shocked, if you asked somebody out on a date you'd be nervous... but how exactly do we portray emotion most effectively?"
She begins drawing a series of paired circles. "In cartoons, and more specifically anime, the eyes are key to showing how a person feels. After all, are they not what we most often see in a person?" She says, looking up into the student's eyes.
She spends a few minutes adding a few adjustments to the drawing, while pointing out several techniques in her drawing, and very soon she has a set of eyes for different emotions, as well as complimenting hair and facial expressions.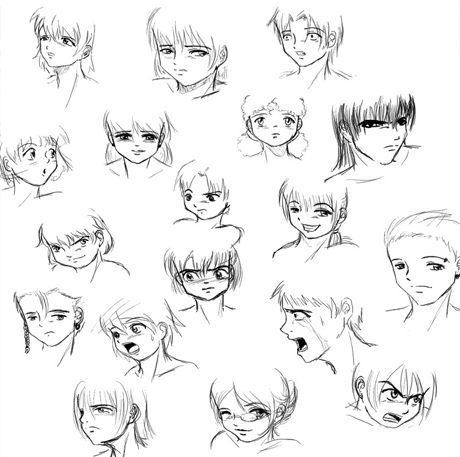 "Notice how each face has extremely different eyes, but the mouth is quite often very similar."
"I was thinking more along the lines of over exaggerated expressions like-...like-..."
I put up one of my fingers and show a page of my current sketchbook.
It's two comics of a cartoon version of myself. One of which exactly what I was thinking of for the project, the other works with the expression.
"-like this."
"This way, is a little less difficult but a bit more interesting with the possibilities."
"You can do everything from setting something ablaze with a flamethrower in anger to literally freezing in fear."
"From smiles to tears, you can almost always get an interesting expression out of it."
"I see. Well, my point still stands!" She says, pointing out the various differences in eyes.

"If you try this out..." She starts while showing Satoshi a few techniques.

.
.
.
.
Around an hour later Iro lets out a smile, "You did well today Satoshi. It's a shame only you appeared but we got a lot done. I think we deserve a break."

She retreats to her desk and flicks a kettle on to boil, "Tea?" She asks.
"Yes, thank you very much, sensai."

I go to work on another one of my drawings.

"I'm surprised nobody else showed. Must of been confusion on our next time we're meeting with the break coming up."


Similar topics
---
Permissions in this forum:
You
cannot
reply to topics in this forum