You walk along the paved pathway of the park. It is a brisk, Autumn evening with trees of various colors all around.
But...something catches your attention.
Perhaps it was a squirrel, a person's foot, or a jumble of leaves.
The dead leaves crush beneath your feet as you stray from the path over to the tree it disappeared behind.
You, however, never get the chance to find out what it is, though because a figure dressed in a half-zipped hoodie with dark jeans lowers himself infront of you from a branch.
It's face upside down and hair dangling from their respective follicles.
And, finally, a small stress upon your nose.
A falsetto noise tinges the air about you.
"Boop!"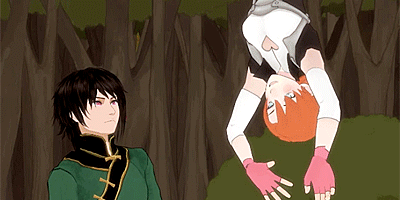 Ichiko goes temporarily cross-eyed - or she would, if she still had two eyes - as Satoshi's finger gently collides with her nose. "Huh?" It takes her a while, due to her lack of depth perception and narrow field of vision, to realize exactly what has occurred.

"...oh, hi there! Say, have we met before?"
I may be upside down but I'd recognize that metallic arm anywhere.

How could I forget such a-...an image? The moment I came up to the rooftop during Summer Break will be permanently branded upon my mind for ages to come.

"I~...don't know."

What was her name again?

I lift myself back up onto the branch and roll off into the air.

The cold, hard ground feels much more cold and hard when my cusionless bottom of bone impacts.

"Phwaaah~!"

My grunt of pain is little more than a little quack. After all, it is my fault for performing such a movement and pain is often nature's responce to such an adverturous performance.
[I swear I responded to this...]

Ichiko rushes forward as the strange figure falls off the tree branch. "Hey, are you alright?"
What's-her-name-san standing over me after I have fallen from a tree.

Now where have I seen that before?

Memories of our first meet play back in my mind. I'm still a little sketchy about tall places and bright lights when around her and her reflective arm.

I don't know if it's the recent fall or the fact that I hit so hard back then that the pain would probably trickle through my memory but my bum hurts.

I rise to my feet.

"Mm."

My hum is less of a response and more of a little pain noise but I'm just being a baby about it for the sake of being a baby about it.

"I'm alright!"

Such a cheery response for something so unimportant.
"Good to hear!"

As the boy stands up, Ichiko recognizes him, clicking her fingers. "Hey, we have met before! On the rooftop, that day I was sunbathing!" ...should I have brought that up? Might not have been the best of ideas, come to think about it...
...

I touch my finger to my lip and assume thinking position for a short second.

"Oh yeah! How would I forget about that?"

I don't know how I would. It would nearly be impossible to forget something like that.

"Of course,-..um~.."

Perfect set up to get her name again. Boy forgets how he knew her. Boy asks for name.
When Satoshi seems to forget her name, Ichiko speaks up. "Ichiko! Ichiko Asari! Did you forget my name again?"


Similar topics
---
Permissions in this forum:
You
cannot
reply to topics in this forum